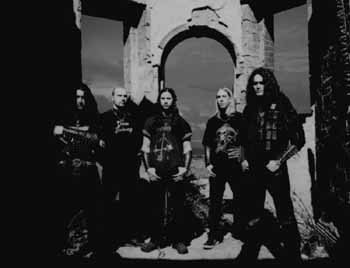 Hailing from Adelaide, South Australia, Deluge formed in the winter of 1998. Since that season the bands line up and its quest has remained unaltered. Deluge is Greg (voice), Adam (bass), Ben (drums), Matt and Jason (guitar).

Brandishing a darkened brutality that travels through sound scapes of escapism, only to bare witness to murder, gore, lust and blasphemy. This five piece draws its energy from the elemental forces of black, death and gothic extremes, to become the sole benefactors of plague metal.
After inundating the local live metal scene from the beginning of 1999 Deluge in July supported Insane Nuclear Metallers , Impaled Nazarene on the South Australian leg of their 'Karmageddon Down Under 1999' tour of Australia. Described by additional support band Nazxul as 'bulldozing brutality' and the exclamation from Mika front man of IN 'you make us guys look like pussies!' this tour was a monumental success for the band. As a result the band will be playing its first shows beyond their home state including the 'Battle Iron5' in Sydney. Deluge will also soon be featured on 'The Australian metal Compilation 1" released on Chatterbox Records.
Besides this release the band has released the CD promo demo featuring 3 songs from their upcoming album. Deluge began this recording of its independently released debut album, "…Of Plague and Conquest" in early 1999. The album is comprised of 10 tracks with a running time of approximately 40 minutes. Recording took place over 6 days at JR Recording in Adelaide being produced and engineered by Eddie Sikorski in conjunction with Deluge. The release date of the CD will be in early October.




For Interviews with Deluge